Zombies are the main antagonists of the World War Z franchise. They are the reanimated corpses of dead humans and are extremely violent beings that attack anything living to eat, kill, and infect.
Books
The zombies in Max Brooks' book "The Zombie Survival Guide" and the follow-up novel "World War Z" are people who have been infected with the Solanum virus. They are slow-moving creatures that seem to possess a mysterious sixth sense and stop at nothing to spread the disease via biting and/or scratching living humans. The zombies from the books adhere to the traditional "slow" zombies.
While slow, they are extremely dangerous in large groups and can easily overwhelm survivors or corner them. Damage to the body will do very little to slow them down and damage to the brain is typically the surefire method of killing them.
Movie
In startling contrast to the novel, the zombies in the
film adaptation
of World War Z are depicted as the "fast" type of zombies, capable of running towards their would-be victims with ferocity. The zombies appear to have behavior heavily based on that of animals, hence the opening credits of the film which shows various animal species and their habits. For example, they are able to climb atop of one another to form a "pillar" or "wall" of zombies, allowing them to cross high walls, a characteristic taken from ants. Some zombies can lunge at humans, similar to tigers or lions. The zombies also behave like viruses themselves, as their only interest is in spreading the infection and seem to have no real interest in consuming their prey; once they manage to land a bite on a victim, they quickly lose interest in that victim and cease their attack to immediately chase after another uninfected person. While capable of grabbing their victims, they are more dependent on their jaws, snapping away once a target has been sighted.
When a human is infected, it is a matter of seconds before they turn. The pathogen responsible for zombification is one of the fastest recorded infections observed with people transforming in as little as 12 seconds. During that very short amount of time, the person writhes and convulses violently on the ground, contorting and snapping their body in many directions in an uncomfortable manner before finally standing up. Humans who have recently turned don't look too different from while they were alive. However, their eyes become blurry and black veins appear all over their face and body. After some time, they degrade and appear more like typical zombies with decaying flesh and hair loss, though they are still able to move quite fast.
The zombies are driven to infect any human they see on sight and are attracted to any loud or man-made noises; such as a car engine or a person's voice. When not attacking they enter a dormant state; listlessly standing around awaiting stimulus. The zombies secrete a black tar-like substance from their mouths. The ooze is surmised to be loaded with the virus though it has an incredibly short life span and must be directly injected into the victim through a bite. Having the substance splashed into the mouth does not result in infection.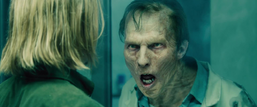 Curiously, the zombies only go after those who are healthy. Those who have been seriously injured or stricken with severe illness are ignored by the infected. For example, Ellis, a soldier at Camp Humphreys, was ignored in a room full of infected due to his lame leg and was able to escape the room and incinerate the infected. Amputation has been seen as being able to stop the infection as demonstrated by a female IDF soldier. However, given the pathogen's extremely fast-acting nature, it is unlikely that by removing the infected limb (assuming that is where they were bit) they cut off the path that allows it to spread throughout the rest of the body. Instead, the host is rendered unsuitable to the pathogen as a result of the trauma caused by the amputation. Vast herds will actually avoid a seriously ill individual when hunting targets; running around the individual in their path. As a result of this particular quirk, the WHO was able to concoct a vaccine that renders individuals effectively undetectable by the zombies, by tricking them into thinking the person has been infected by a serious disease.
Game
As the video game adaptation of World War Z is based on the film, for the most part, the zombies are also depicted as the running types with similar physical features such as the black veins and cloudy eyes. They also retain the same behaviors such as increased aggression, attraction to loud noise, and the ability to climbing over themselves to reach higher areas quicker. Newly-infected humans still turn in a brisk 12 seconds or less while uncontrollably convulsing all the way through. The zombies seem to be slighter more intelligent than they let on, given that some are capable of jumping out of the way when being shot at. This displays traits of self-preservation, suggesting they are not entirely mindless and unthinking creatures.
Gameplay strongly suggests that the zombies based on the game and subsequently the film can be killed with enough damage to their body, not just their brain. Although a bullet straight to the head is one of the quickest and most effective ways of killing them, many traditionally ineffective methods of harming zombies work to put them to rest once more.
Regular Zombies
There are a few types of regular zombies in the game:
Zeke - The common zombie and the main undead force of the virus that plagues the world over. Most, if not all zekes show signs of having been infected for some time. While barely a threat on their own, they pose a serious problem when in larger groups. They take advantage of greater numbers to overwhelm and decimate survivors. When attempting to reach targets in elevated levels, they will stack on each other to form a pyramid that allows them to quickly climb up to the players' level. If enough zekes manage to surround a survivor, they will be pinned down to the ground in a unique downed state and will likely require the help of others to clear them off to get back up. When sighting a survivor aiming down a weapon, zekes will sometimes dodge out of the way of survivor gunfire to throw off their aim. On higher difficulties, they become much smarter, more resilient against damage, and arrive in far greater numbers.
Zombified Survivor - When a survivor is incapacitated and not rescued in time, has been incapacitated too many times (the number of incapacitations depending on the difficulty and class perks), or fails to disinfect themselves from infection, they will writhe uncontrollably on the ground for short while before getting back up as a freshly turned zeke. Having been very recently turned, zombified survivors are slightly faster and more resilient to damage, making them noticeably harder to kill. If the survivor was carrying a Medkit, a defense kit, or other supplies when they turned, it will be dropped for other living survivors to pick up. If the survivor was carrying a Virus Sample when they turned, it will be lost.
Zombified Solider- Soldiers and (in some cases, civilians both armed or unarmed) can be attacked during certain scenarios during a chapter. Should they not be immediately supported back up by clearing away the zekes around them, or they have suffered too much damage, they will be infected by the zekes that attacked them and become a zeke themselves soon after. Having been very recently turned, zombified soldiers are slightly faster and more resilient to damage, making them noticeably harder to kill. Soldiers will usually yell out if they are infected, surrounded, or bitten to serve as a warning to others that they are about to turn.
Special Zombies
A few special zombies exist, serving as a more dangerous threat to the survivors than the average zeke. Special zombies stand out with a more unique outfit and may possess an object or abilities that make them a bit different to fight against in contrast to all the regular zombies that are fought. Most special zombies seem to display greater cognitive abilities and more intelligence than that of regular zekes. This may have to do with the type of person they used to be before succumbing to infection as some possess fairly notable behavioral quirks that make them stand out when compared to normal zekes for the most part.
Gallery