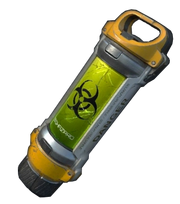 The
Virus Sample
 is an optional objective item. These strange containers appear in specific spots in every chapter of every episode.
Virus Samples are specially-designed containers with a large vial for securely housing a highly hazardous, bright green infectious agent.
Overview
Risk & Rewards
As its name would suggest, the contents of Virus Samples are fairly dangerous, to say the least. However, the risk of carrying one of these vials all the way to the end of a chapter does not come without a reward.
Collection
If a Virus Sample is found, approach it to be able to pick it up. It will then be attached to the survivor's backpack for the rest of the chapter. With a sample secured, you are now tasked with carrying it all the way up to the chapter's completion.
Sample Locations
*Check the List of Virus Sample Locations for details on where to find them on every episode and chapter.
The Bomber
The Bomber is a special zombie with a unique connection with Virus Samples. The Bomber is an enemy with both risk and reward being integral to his design. When disposed of properly, he will drop a Virus Sample for anyone to pick up. To do this, simply shoot him in the legs enough times to bring him down to the ground and defuse him by finishing him off with a melee attack. Given this, he allows teams to finish a game with even greater rewards with the collection of an additional sample on top of the two that spawn randomly in each chapter. Alternatively, if a sample was missed earlier, grabbing the one dropped by the Bomber can make up for that potential loss.
Bonus Reward Table
| Collected Virus Samples | Easy | Normal | Hard | Extreme | Insane |
| --- | --- | --- | --- | --- | --- |
| 1 | XP | 145 XP | XP | XP | XP |
| 2 | XP | 290 XP | XP | XP | XP |
| 3 | XP | 750 XP | XP | XP | XP |
Gallery