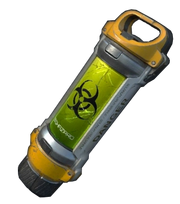 The
Virus Sample
 is an optional objective item. These strange containers appear in specific spots in every chapter of every episode.
Virus Samples are specially-designed containers with a large vial for securely housing a highly hazardous, bright green infectious agent.
Overview
Risk & Rewards
As its name would suggest, the contents of Virus Samples are fairly dangerous, to say the least. However, the risk of carrying one of these vials all the way to the end of a chapter does not come without a reward.
Collection
The Bomber
Sample Locations
*Check the List of Virus Sample Locations for details on where to find them on every episode and chapter.
Bonus Reward Table
| Collected Virus Samples | Easy | Normal | Hard | Extreme | Insane |
| --- | --- | --- | --- | --- | --- |
| 1 | XP | XP | XP | XP | XP |
| 2 | XP | XP | XP | XP | XP |
| 3 | XP | XP | XP | XP | XP |
Gallery