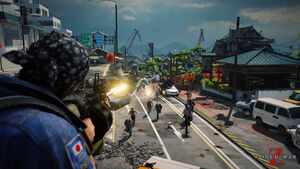 Tokyo is the capital of Japan, housing the Japanese seat of government, the National Diet, and the Emperor of Japan. Previously known as Edo, it has been the capital of Japan ever since Emperor Meiji moved his seat from Kyoto in 1868, renaming Edo to Tokyo in the process.
During the outbreak in Japan, the Japanese government felt that they lacked the means to fight off the zombie horde, and instead enacted the mass exodus of the Japanese home islands to secure locations (the candidates includes the Siberia, Manchuria, and the Sakhalins, among many other options). This was fueled by the lack of combat experience of the JSDF, and the fact that only certain people can own firearms in Japan (usually Military soldiers and Police officers) serves as additional reasons why Japan couldn't defend itself.
Community content is available under
CC-BY-SA
unless otherwise noted.