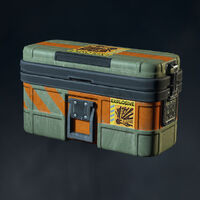 The Supply Bag is equipment used by classes in World War Z.
The Supply Bag is used by the Fixer classes in Co-op Campaign, and the Support class in Multiplayer.
Once deployed, teammates that interact with it will supply themselves with some explosive ammo for their primary weapon with the exception of the Crossbow since it already fires explosive in the first place.
Despite the appearance of the shots fired when they hit something, the explosive ammunition doesn't cause damage in a small area capable of hitting others closeby. What it actually does is deal significantly increased damage, making it particularly powerful in taking down special zombies quicker and killing normal zekes in higher difficulties fast.
The Supply Bag is based on ammunition boxes. Judging by the bag's appearance and its ridges, it is made out of some kind of durable plastic. The actual design as well as the unique shape of the container is largely original.
Community content is available under
CC-BY-SA
unless otherwise noted.