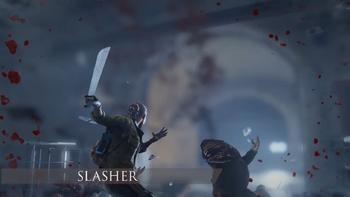 "There's nothing like cold steel to put the enemy down" ― Slasher class description
The Slasher is one of eight playable classes for Co-op Campaign in World War Z.
Overview
The Slasher is a class with superior melee prowess, giving them the upper hand in close-quarters combat scenarios.
As expected, most of the Slasher's perks are centered around melee weapons and melee combat. There are also a small handful of perks that can benefit an up-close and personal fighting style. Given some of the limitations that come with melee, the Slasher class aims to eliminate such drawbacks to make the prospect of engaging in hand-to-hand combat a more appealing and viable option for fighting zekes. Choosing the Slasher gives you an edge in an aspect of zombie killing that other classes cannot achieve to any similar degree. The close combat weapon you wield becomes a valued instrument of eradication and it must be integrated into your arsenal to play effectively, whether it be light and fast-swinging, heavy and slow-swinging, or somewhere just down the middle.
The Slasher's starting core perk grants two passive buffs. The first allows melee attacks to hit two targets at a time (three for heavy melee weapons) while also doing twice as much damage while unfatigued. The second allows you to continue swinging your melee weapon at the same rate even while fatigued, although this will disable the first buff until you are no longer fatigued. These buffs are what give the Slasher a stronger and superior melee game that makes it slightly more encouraged to use melee in more situations.
The equipment of choice for the Slasher is the Stun Gun. This electrifying tool shocks nearby enemies in place for a short time, allowing you to rip and tear into them with little repercussions, make a hasty retreat, or free teammates that get pinned down.
Perks List
Regular & Core Perks
Level

Perk

Description

XP Required

Unlock Cost




Shock Troops

Start with Stun Gun and Compact SMG. Melee strikes damage two targets and do twice more damage when you're not tired. Melee attacks are not slower when tired
0 XP
0
Segment One
1



Crowd Control

Push radius from melee attacks increased by

50%

0 XP
0 
2



All Elbows

Movement speed penalty when zombies are very close reduced by

100%

1250 XP
150 
3



Rooted

You can never be pinned down by usual zombies (does not affect special zombies)
1250 XP
150 
Segment Two
4



Juiced Up

Stun Gun effect duration increased by

100%

1250 XP
150 
5



Zeus

Increase Stun Gun range by

50%

and target count to

20

(base range:

12

m, base target count:

15

)
1250 XP
150
6



High Voltage

Stun Gun damage Increased by

150%

1250 XP
150 
Segment Three
7



Bullet-dodger

Take

100%

less friendly fire from bullets while performing melee attacks
1250 XP
150 
8



Nimble

Take

50%

less damage while performing melee attacks
1250 XP
150 
9



With My Last Breath

Melee strikes damage

2

more targets when health is below

35%

1250 XP
150 
  

10




Slice and Dice

You and all teammates can perform more melee strikes (

+2

) before becoming tired
1500 XP
0
Segment Four
11



Trophy Hunter

Deal

25%

more damage to special zombies
1500 XP
250 
12



Wheatgrass

Health increased by

25%

1500 XP
250 
13



Silent Killer

Start with a TMP5 SMG with silencer upgrade
1500 XP
250 
Segment Five
14



Vigour

Killing

10

zombies in rapid succession with a melee weapon grants temporary health boost (cooldown

30

seconds)
1500 XP
250 
15



Cloak and Dagger

Killing

10

zombies in rapid succession with a melee weapon grants a masking effect (cooldown

30

seconds)
1750 XP
350 
16



Third Hand

Killing

5

zombies with melee strikes in rapid succession instantly reloads your primary weapon
1750 XP
350 
Segment Six
17



Heavy Metal I

Starts with improved Forrest Warrior Chainsaw deals

50%

more damage and has

50%

more fuel. All Forest Warrior Chainsaw pickups for you also improved [base:

8

fuel

]

1750 XP
350 
18



Heavy Metal II

Starts with improved Taiga-12 Heavy Assault Shotgun that deals

25%

more damage and has

25%

more ammo. All Taiga-12 Heavy Assault Shotgun pickups for you also improved [base:

50

ammo

]

1750 XP
350 
19



Battle Cry

Automatically stand up from being pinned after

5

seconds
1750 XP
350 
  

20




Executioner

Perform

1

more melee strike before becoming tired. Melee damage increased by

50%

2000 XP
0
Segment Seven
21



Shock Therapy

You will not become fatigued when melee attacking zombies electrified by the Stun Gun
2000 XP
500 
22



Samurai

Killing

15

zombies in rapid succession allows you to hit

1

more target per melee strike for

10

seconds
2000 XP
500 
23



Bloodlust

Killing special zombies with a melee weapon will increase firearm damage by

100%

for

15

seconds
2000 XP
500 
Segment Eight
24



Spare Batteries

Max capacity for Stun Gun charges increased to

4

[base:

83

charges

]

2000 XP
500 
25



Pickpocket

Killing

15

zombies in rapid succession refills one equipment charge (cooldown

60

seconds)
2500 XP
500 
26



Loan Shark

Killing a special zombie gives a

50%

chance to restore one charge to your equipment
2500 XP
500 
Segment Nine
27



Flash Sale

Using the Stun Gun restores

1%

of your primary weapon's ammunition for every target you stun.
2500 XP
500 
28



Swapping Mags!

SMGs' reload speed is increased by

25%

2500 XP
500 
29



Adrenaline

Reload speed increased by

50%

when health is below

35%

2500 XP
500 
  

30




Blade Master

Melee strikes damage

1

more target
3500 XP
0
Prestige Rank Perks
Rank Level
Perk
Description
Unlock Cost
1



Juiced Up II

Stun Gun effect duration increased by

15%

7500
2



Zeus II

Increase Stun Gun range by

15%

[base:

12

meters

]

7500
3



Executioner III

Perform

1

more melee strike before becoming tired
7500
4



Nimble II

Take

10%

less damage while performing melee attacks
7500
Gallery
Classes (Co-op Campaign)

Gunslinger •
Hellraiser •
Medic •

Fixer

Slasher •
Exterminator •

Dronemaster •

Vanguard
Classes (Multiplayer)
Survivor •

Trapper •
Specialist •

Warfighter •

Phantom
Demolisher •
Striker •

Support •

Assassin •

Shadow