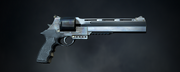 The Revolver (Casull 6) is a Tier II secondary weapon in World War Z.
It is based on the Mateba Model 6 Unica by the unique barrel that shoots from the lower cylinder (less recoil) and the octagon-shaped cylinder. Despite having a design that reduces recoil, the kick is still visible and therefore contributing to a lower firing rate as characters need to adjust their aim.
It boasts 6 shots. The rounds that come with the gun at the base are 70 extra total. The revolver can be silence with the level 4 upgrade in the dronemaster update (the ability of having it silenced is fascinating, as the swing out cylinder creates a gap which allows air and noise the escape), and six powerful cartridges that will tear through zekes without an issue. The powerful rounds can keep the zombies a fair distance from you when retreating. Despite all that, it only has six shots so making your bullets count is important, especially since you will constantly be reloading.