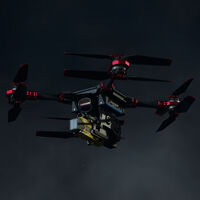 The Quadrocopter is equipment used by classes in World War Z.
The Quadrocopter is used by the Dronemaster class in Co-op Campaign.
Overview
When deployed, the Quadrocopter will take a second to deploy where it will then follow its user around. By default, the Quadrocopter is armed with a Stun Gun, zapping any singular zombie that gets too close to prevent them from attacking you. With select perks, the Stun Gun can be replaced with a Pistol, shooting zekes from a distance and assist in killing more efficiently instead.