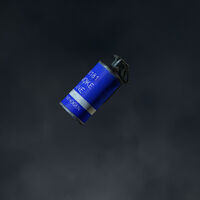 The Masking Gas Grenade (simply, the Masking Grenade) is equipment used by classes in World War Z.
The Masking Gas Grenade is used by the Fixer class in Co-op Campaign, and the Shadow class in Multiplayer.
When thrown, the grenade creates a small blue smoke cloud that causes all allies standing inside of it to become invisible to zekes both normal and special. While masked, zombies will not attack and will stand around confused. Depending on the position of other teammates, they will begin chasing after survivors that are not under the effects of masking gas. However, this won't stop hordes of zekes from moving towards your position during swarm events. Survivors that are pinned by a Lurker or Bull can be freed by throwing a Masking Gas Grenade at them.
When the grenade's gas is applied, the player's screen will have a deep blue hue until the effect wears off.
The Masking Gas Grenade is based on the M18 smoke grenade which is a colored smoke grenade. Although the masking grenade does spray out concealing colored smoke in a cloud, the effective radius of the cloud is fairly small and does not provide any physical coverage for the survivors. Instead, survivors must linger in the produced smoke long enough to inhale the gas which contains traces of an inert pathogen.
The main concept behind the Masking Gas Grenade was inspired by the scene in the World War Z film in which the protagonist Gerry Lane purposefully injected himself with a pathogen to become invisible to the zekes. In-game, it is assumed that the militaries of the world have learned about this useful trick and began engineering weapons using this newly-discovered information. This weapon would become known as the Masking Gas Grenade, an altered smoke grenade with a pathogen-laced composition to provide temporary cover to everyone who steps into the cloud from the zekes.
Community content is available under
CC-BY-SA
unless otherwise noted.