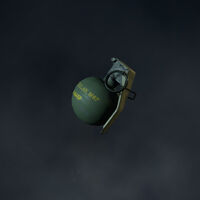 The Frag Grenade (simply, the Grenade) is equipment used by classes in World War Z.
The Frag Grenade is used by the Gunslinger class in Co-op Campaign, and the Specialist and Warfighter classes in Multiplayer.
Overview
When thrown, it explodes shortly after hitting a surface. It instantly kills most zekes, making it perfect against zombie pyramids and large swarms. When thrown, there will be a red grenade icon for other players (but not the player who threw the grenade) similar to all grenade launchers to prevent friendly fire or to see friendly fire coming.
Design
The Frag Grenade is based on the M67 grenade which is a fragmentation hand grenade.