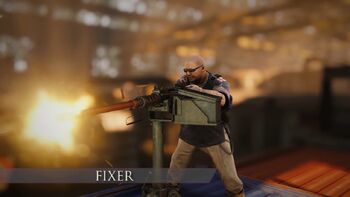 "Always on hand to keep the war machine running" ― Fixer class description
The
Fixer
is one of seven playable
classes
for Co-op Campaign in
World War Z
.
Overview
The Fixer is a class that provides support, assistance, and cover for their team that always comes in handy for a variety of situations.
There is a strong variety of perks that the Fixer possesses to help their team in several unique ways. This makes the Fixer a big team player that can bolster their damage, restore their ammunition, hide their trail, or bring them back up from incapacitation with a little extra to help them even the odds. Choosing the Fixer is to decide you wanting to see your team succeed and that you will use your strengths and abilities to provide them unmatched support to get around tough situations and equalizing the fight against the zekes.
The Fixer's starting core perk grants a passive buff where you and your teammates permanently carry 10% more ammo for both their primary and secondary weapons. This buff allows everyone to store a bit more ammo for use and the higher carried ammo capacity makes the Fixer's ammo restoration perks slightly more effective.
The equipment of choice for the Fixer is the Supply Bag. This powerful tool is placed on the floor for everyone, including the Fixer who placed it, to interact with. When used, the bag supplies the collector with some explosive ammunition for their primary weapon (with exception to the Crossbow and the Advanced Combat Weapon) along with a bit of regular ammunition. The explosive ammo deals much greater damage than regular ammo.
Alternatively, by choosing a specific perk, the Fixer can have the Masking Gas Grenade as their equipment of choice instead. This unique tool creates a blue cloud of specially-engineered gas that can hide the Fixer and their teammates from enemies for a short period of time after stepping into it.
Perks List
Regular & Core Perks
Level
Perk
Description
XP Required
Unlock Cost
Mule
Start with a Supply Bag and Scout Rifle. Increase carried ammo capacity for primary and secondary weapons by 10% for all teammates
0 XP
0
Segment One
1
Kickback
When a teammate uses your Supply Bag there is a 20% chance you will also gain explosive ammo
0 XP
150
2
Armory
Using a Supply Bag gives a 20% chance to restore one equipment charge. But the bag owner can only restore his equipment when someone else gains this benefit from his bag
1250 XP
150
3
Stand by Me
Increases firearm damage by 100% for 10 seconds when reviving or unpinning a teammate
1250 XP
150
Segment Two
4
Night Owl
Masking Grenades grant an additional temporary health boost. Start with Masking Grenades
1250 XP
150
5
Side Effects
Masking Grenade gas is lethal to zombies. Start with Masking Grenades
1250 XP
150
6
Give 'em Hell
Reviving a teammate grants explosive ammo for both of you
1250 XP
150
Segment Three
7
Knock Knock
You start with a Breaching Charge
1250 XP
150
8
Paramedic
Revive speed increased by 100%
1250 XP
150
9
Cloakroom
Reviving a teammate grants masking effect for 3 seconds for both of you
1250 XP
150
  
10
Please Stand Up
If everyone in a team is incapacitated or pinned by a zombie then the Fixer is able to stand up (cooldown 60 seconds)
1500 XP
0
Segment Four
11

My Round I

Increase carried ammo capacity for primary and secondary weapons by 10% for you and all teammates
1500 XP
250
12
Wheatgrass
Health increased by 25%
1500 XP
250
13
Gunner
Start with Sporting Carbine Pac-15
1500 XP
250
Segment Five
14
One for the Road
Max Masking Grenade and Supply Bag capacity increased to 2. However Masking Grenade effect duration decreased by 3 seconds and Supply Bag contains 25% less explosive ammo
1500 XP
250
15
Pickpocket
Kill 15 zombies in rapid succession refills one equipment charge (cooldown 90 seconds)
1750 XP
350
16
Scavenger
Killing special zombie restores one equipment charge (cooldown 90 seconds)
1750 XP
350
Segment Six
17
Instant Replay
Anyone that uses your supply bag restores 20% of their primary weapon ammunition (base 10%)
1750 XP
350
18
Under the Table
Anyone entering Masking Grenade gas cloud restores 10% of primary weapon ammo
1750 XP
350
19
Go Get 'Em
Reviving a teammate will restore 25% of primary weapon's ammunition for you and your teammate
1750 XP
350
  
20
Efficiency
Supply bag contains 25% more explosive ammo. Masking grenade effect duration increased by 2 seconds
2000 XP
0
Segment Seven
21
Lightning Hands
All semi automatic rifles' reload speed increased by 25%
2000 XP
500
22
Power Shot
All semi automatic rifles gain increased penetration
2000 XP
500
23
Casull 6
Start with a Casull 6 in your secondary weapon slot
2000 XP
500
Segment Eight
24
Fourth of July
Your Supply Bag can be used 1 more time(s) before depleting (base 4 uses)
2000 XP
500
25
Shadow Walker
Masking Grenade effect duration increased by 2 seconds (base 6 seconds)
2500 XP
500
26
Darkness Falls
Masking Grenade gas cloud duration is increased by 7 seconds (base 5 seconds)
2500 XP
500
Segment Nine
27
My Round II
Increase carried ammo capacity for heavy weapons by 10% for all teammates
2500 XP
500
28
Bandolier
Mortar and Stationary machinegun ammo capacity increased by 25% for all team. Durability of defenses increased by 25% for all team
2500 XP
500
29
The Big Five O
Start with improved BF25 Payload Rifle that deals 50% more damage and has 50% more ammo. All BF25 Payload Rifle pickups for you also improved
2500 XP
500
  
30
Corporate Power Nap
Unequipped weapon automatically reloads every 10 seconds for all teammates
3500 XP
0
Prestige Rank Perks
| Rank Level | Perk | Description | Unlock Cost |
| --- | --- | --- | --- |
| 1 | Knock Knock II | 10% chance of using Breaching Charge without spending it | 7500 |
| 2 | Paramedic II | Revive speed increased by 25% | 7500 |
| 3 | My Round III | Carried ammo capacity increased for primary and secondary weapons by 5% for you and all teammates | 7500 |
| 4 | Bounty Hunter | Deal 10% more damage to special zombies | 7500 |
Gallery
Classes (Multiplayer)
Survivor •
Trapper •
Specialist •
Warfighter •
Phantom
Demolisher •
Striker •
Support •

Assassin •
Shadow