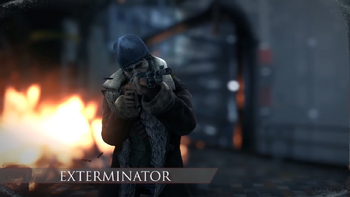 "Excels at crowd control, thinning out swarms and keeping them at a distance" ― Exterminator class description
The Exterminator is one of eight playable classes for Co-op Campaign in World War Z.
Overview
The Exterminator is a class designed for maximizing the damage you deliver in situations where you and your team must fight off large waves of enemies.
A great deal of the Exterminator's perks lends itself to improving combat against zeke swarms for both themselves and others. Given how dangerous and unavoidable swarms are, it can be highly favorable to have an Exterminator around, especially given their effectiveness and efficiency with crowds and defense systems. Choosing the Exterminator puts you in charge when up against the swarms you and your team will inevitably face. The Exterminator is expected to pull much more of the weight around when it comes to driving off a swarm attack successfully.
The Exterminator's starting core perk grants a passive buff where you, and only you, deal 25% more damage with all your weapons during the moments where you must face a large number of enemies at once, i.e., a swarm. This buff gives you an upper hand when facing a horde, making it a bit easier to kill enemies with anything you use.
The equipment of choice for the Exterminator is the Molotov Cocktail. This flammable tool shatters on impact, splashing fire in a radius and leaving behind a fire pool that can easily burn others that wander through it.
Alternatively, by choosing a specific perk, the Exterminator can have the Claymore Mine as their equipment of choice instead. This lethal tool can be placed on the ground for setting a defensive perimeter near important areas and covering your flank.
Perks List
Regular & Core Perks
Level

Perk

Description

XP Required

Unlock Cost




Firestarter

Start with Molotov and Shotgun. You deal

25%

more damage during swarm attacks
0 XP
0
Segment One
1



Pyromaniac

Molotov's fire damage increased by

50%

0 XP
0 
2



Hangover

Molotovs burn

75%

longer
1250 XP
150 
3



Crowd Control

Push radius from melee attacks increased by

50%

1250 XP
150 
Segment Two
4



Rage Mode

When pinned down by usual or special zombies you will automatically rise up and push your attackers back (cooldown

300

seconds)
1250 XP
150 
5



All Elbows

Movement speed penalty when zombies are very close reduced by

100%

1250 XP
150 
6



Rooted

You can never be pinned down by usual zombies (does not affect special zombies)
1250 XP
150 
Segment Three
7



Dragon Hide

Fire resistance increased by

100%

1250 XP
150 
8



Heavy Metal

Start with improved RPGL4 that deals

100%

more damage. All RPGL4 pickups for you also improved
1250 XP
150 
9



Heavy Metal II

Start with improved Taiga-12 Heavy Assault Shotgun that deals

25%

more damage, and has

25%

more ammo. All Taiga-12 Heavy Assault Shotgun pickups for you also improved

1250 XP
150 
  

10




Bandolier

Mortar and Stationary machinegun ammo capacity increased by

25%

for all team. Durability of defenses increased by

25%

for all team
1500 XP
0
Segment Four
11



Deep Pockets

Carried ammo capacity for primary and secondary weapons increased by

25%

1500 XP
250 
12



Wheatgrass

Health increased by

25%

1500 XP
250 
13



Rifleman

Start with ARK-103 Assault Rifle
1500 XP
250 
Segment Five
14



Green Fingered

Your Claymores are rigged to explode only when there are at least

5

targets in the blast area. Start with Claymore
1500 XP
250 
15



Fire Trap

Claymore explosions set fire to surrounding area. Start with Claymore
1750 XP
350 
16



Combat Engineer

20%

chance to restore an expended Defense Kit. (

10%

for Horde Mode)
1750 XP
350 
Segment Six
17



Second Wind

Instead of becoming incapacitated you will regain

25%

health and keep going (cooldown

120

seconds)
1750 XP
350 
18



Job Satisfaction

Killing

15

zombies in rapid succession grants temporary health boost (cooldown

30

seconds)
1750 XP
350 
19



Cloak and Dagger

Killing

15

zombies in rapid succession grants masking effect for

3

seconds
1750 XP
350 
  

20




Hollywood II

Explosives and fire damage dealt to yourself and your teammates reduced by

50%

2000 XP
0
Segment Seven
21



Broad Shoulders

Heavy weapon ammo capacity increased by

25%

2000 XP
500 
22



Bullet Rain

All fully automatic weapons' reload speed increased by

25%

2000 XP
500 
23



Third Hand

Killing

15

zombies in rapid succession instantly reloads your primary weapon
2000 XP
500 
Segment Eight
24



Party at my Place

Maximum Molotov capacity increased to

3

and Claymore capacity to

4

2000 XP
500 
25



Pickpocket

Killing

15

zombies in rapid succession refills one equipment charge (cooldown

60

seconds)
2500 XP
500 
26



Pocket Factory

You won't be able to pick equipment bags on the mission but your equipment will be constantly regenerating (

150

 seconds to replenish to maximum)
2500 XP
500 
Segment Nine
27



Know-How

Molotovs and Claymores can kill

25%

more targets
2500 XP
500 
28



Hot Sauce

Molotov's splash damage increased by

100%

2500 XP
500 
29



Ghost

Automatically receive masking effect if you are the last of your team still standing (does not apply if you are incapacitated or pinned)
2500 XP
500 
  

30




Daredevil

When there are more than

30

zombies in the area, firearm damage is increased by

25%

and number of melee strikes before becoming fatigued increased by

2

3500 XP
0
Prestige Rank Perks
Rank Level
Perk
Description
Cost
1



Wheatgrass II

Health increased by

5%

7500
2



Bullet Rain II

Shotgun and semi automatic weapons reload speed increased by

10%

7500
3



Know-How II

Molotovs and Claymores can kill

10%

more targets
7500
4



Deep Pockets II

Carried ammo capacity for primary weapons increased by

10%

7500
Gallery
Classes (Co-op Campaign)

Gunslinger •
Hellraiser •
Medic •

Fixer

Slasher •
Exterminator •

Dronemaster •

Vanguard
Classes (Multiplayer)
Survivor •

Trapper •
Specialist •

Warfighter •

Phantom
Demolisher •
Striker •

Support •

Assassin •

Shadow